In the Spotlight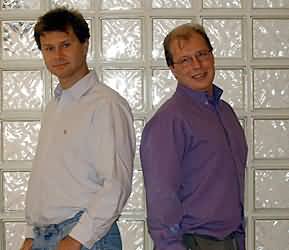 East meets west as new internet tech firm goes international By Andrew Murray-Watson, Monday,†22nd†October 2001 The Scotsman



Scotland's Most Innovative Firms Share Over £2 Million SMART Prize
The Scottish Executive Innovation Bulletin - 27 March 2001

Infogistics wins SMART Award competition
Filling in the gaps among job vacancies
Scotsman 03-09-2001 by Andrew Murray-Watson

The software - which works in a similar way to an internet search engine by extracting relevant information from piles of unwanted clutter - can also organise diaries, make appointments and send background information to the job applicant. The intelligent text analysis software, which sifts through the pages of qualifications comes from software company Infogistics...
Top gun entrepreneurs ready for event shootout
Scotsman 11-03-2001 by Julie Bain

CONNECT Scotland, the country's main technology industry body, has finalised its 13-strong shortlist of the hottest up-and-coming entrepreneurs in preparation for its Springboard event this week. The businesses are: ... Infogistics ....
Jealous of other people's lucrative potential to expand
BusinessAM 12-02-2001 by Caspian Woods

The second company, Infogistics, is a software spin-out from Edinburgh University, run by two PhD rocket scientist types who have developed a patentable application for data mining. The one thing the two businesses had in common was enormous and rapid growth potential. They had cracked the funders' dream requirement of scalability.